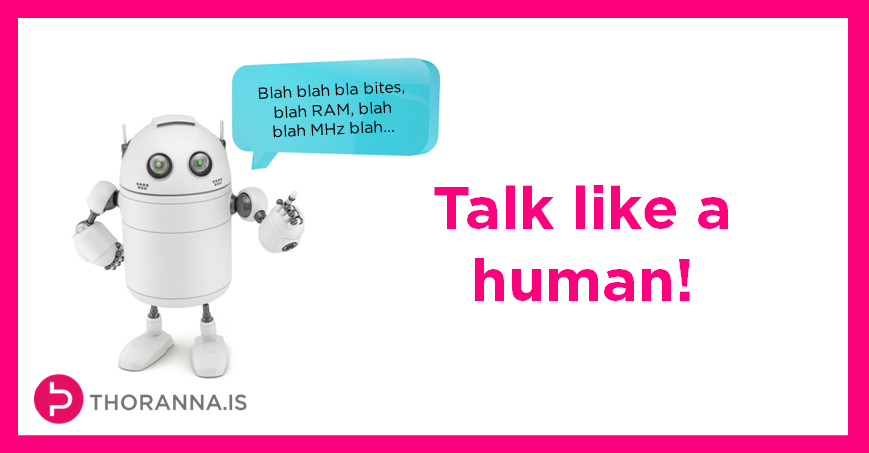 What do you mean you don't get it? Really?! There are actually a lot of people out there who think a lot of other people get it and can't understand why there are not lots of people lining up to buy from them! :)
A few local IT companies have approached me about their marketing. These are smaller players in the market, offer various IT services and often also sell hardware. Most of these don't sell a lot to IT specialists. Their main customers are individuals and small and medium sized businesses who don't have an IT person, or if they have one, they are general IT managers who have a good overview of things, rather than specialists in anything.
The thing about these IT companies is that they are all pretty much the same – well, at least the ones I have checked out. They don't set themselves apart in any way, and none of them talk like humans about what they can do for their customers. They all seem to get lost in techie jargon. Because they are all the same, and because they all speak tech jibberish, people don't really care where they buy things. They will buy based on price and the whole market therefore competes on prices – and if people buy because of good service, it is more often than not because they were lucky enough to be serviced by Steve or Johnny or someone who is naturally good at customer service, rather than it being because of the company's focus on customer service.
There are huge opportunities for differentiation in this market. Speaking like a human for a start, rather than in bytes, Hz or RAMs or whatever they all are. What problems does the customer face? What do they need? And making it clear that there are no stupid questions, only stupid answers. Content marketing (which I have talked about before) is ideal for IT companies. Be the expert that knows all about these things but is able to communicate in human terms, giving people the information they need. This would build a relationship, trust, your reputation as an expert and a reputation for good customer service.
Oh yes, and build an interesting personality for your brand – a personality people will like. You are allowed to be fun, colorful, helpful, nice and happy. Go for colors other than black or green and Matrix styled images, or red and gray with way too many "special offer" labels all over. Develop a different and interesting tone of voice for your business. Don't be like everyone else. OK, I know this is an obvious example, but why do you think Apple left the competition in the dust? Not by talking in bytes, Hz and RAM. iPod "A 1000 songs in your pocket" – that is what matters! (It is quite funny actually that using Apple as an example is a total cliche but the IT business still doesn't seem to have got it).
I have not worked for any of those IT companies who have approached me. Why? Because so far they all seem to want tactics: "Should we buy Facebook ads, Google AdWords, should we advertise here or there…" and that is simply not the way I work. That is starting at the wrong end. You need to know who you are marketing to; you need to know your competition; you need to know who you want to be, how you are going to be different from the rest and how you want people to perceive you before you can start deciding on marketing activities, and for them to work when you start using them. If you don't know the people you are talking to, how are you going to communicate with them on Facebook? You will end up using endless offers and games and silly things like that, because you can't give them anything of value – because you don't know what matters to them. If you have no vision of how you want people to see you, what you want your brand to be, your marketing will be disjointed, inconsistent, and will lack direction and effect. Without brand personality, how can people like you – let alone form a relationship with you?
Full confession: I would love to work for an IT business who is ready to tear themselves out of the box and do things properly. It would be a wicked project. "Come on, mini Apple!" lol  … I know that it would be possible to leave the competition lying in the dust. However, that will take bravery, hard work, patience, ambition and at least a tiny little bit of craziness. I hereby advertise for such a business to work with! :)