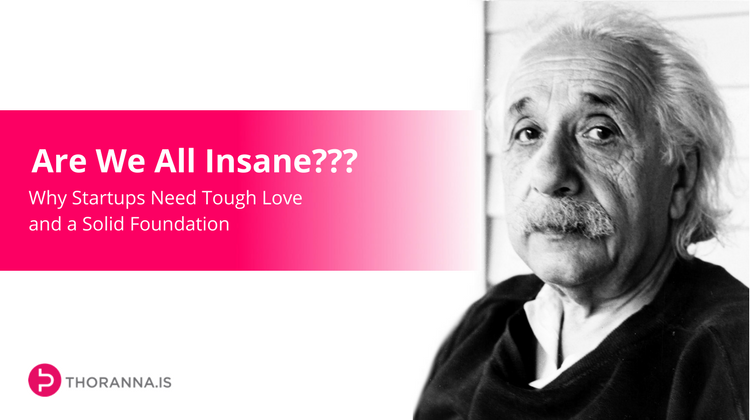 Einstein is supposed to have said that doing the same thing over and over and over again and expecting a different outcome is the definition of insanity. Now, I'm assuming he meant that on an individual level.
What if a whole community keeps doing something again and again and again – something that doesn't work – but still expects a different outcome? When multiple people in that community do the same thing, year after year – no one learning from the other and no one thinking "hmmmmm… maybe I should do things differently" – does that mean that the whole community is insane?
Now, I'm generalizing for dramatic effect, of course, and am happy to say that there are exceptions to this. Nonetheless, I can't help asking myself this question each time I dip my toes into the startup scene.
Since 2009, I've intermittently dipped into the Icelandic startup scene. I've set up an incubator where I consulted with startups, mentored at a number of events such as Startup Weekend, Startup Reykjavik, Startup Energy, Startup Tourism, Unconference, worked closely with Innovation Center Iceland as well as having worked and consulted with a number of startups in various other settings.
Time and again I see entrepreneurs and founders completely in love with their product or service (and so they should be and need to be to a certain extent) and totally oblivious to the fact that nobody else in the universe feels the same about it as they do. And everybody who works with entrepreneurs is familiar with this. What seems to be lacking however is getting the entrepreneurs to understand this fatal fallacy. The sooner founders grasp the cold hard truth that nobody cares about their stuff, however many bells and whistles, the better.
Tough Love Needed
Anyone who has experience with startups and entrepreneurship for some time knows the danger of this love affair between the entrepreneur and his product or service. Yet, we don't seem to be prepared to give the tough love needed for entrepreneurs to realise that this could be, and often is, their downfall.
Only yesterday a friend of mine, a well respected startup consultant, was telling me about a company starting the development of a new product before they had even begun to sell the first one, believing that their first one would simply sell itself because it was so awesome. Her advice to focus on getting the first product to market and generating revenue fell on deaf ears as the excitement of more creativity and development beckoned. Their blinding love of the product made them think that the whole world will automatically fall in love with it. Not. Gonna. Happen.
Another business I've been following does not in any way communicate [Read more…]