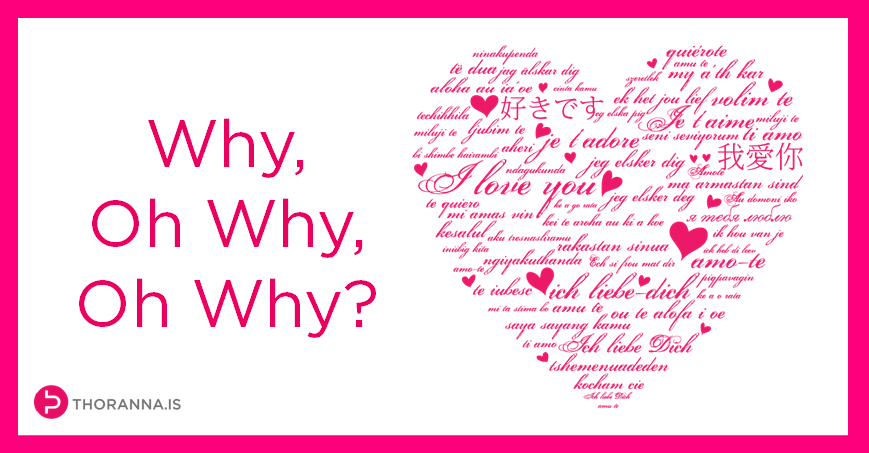 Why, oh why, do you do what you do? Have you ever asked yourself? I believe that there are better and worthier reasons for running a business than just making money. You can call me naive, but that's the way it is. The fact is also, that businesses that stand for something more than just making money – well, they tend to make more money!
In her book, Passion Brands: Why Some Brands Are Just Gotta Have, Drive All Night For, and Tell All Your Friends About
, Kate Newlin talks about what it is that makes people love certain brands. And loved brands have loyal customers that will not go elsewhere, but not only that, they spread the message and thereby create more business. It is clear from the book and its underlying research that the businesses that stand for something, have clear values and share those values and their outlook on life with their customers, those businesses reap the rewards of customer loyalty and better business.
That does not mean you can just slap something on to use for marketing. If you decide, for example, to promote the value of environmentalism, it is not enough to put one recycling bin out back and leave it at that. You need to take those values to heart, take them all the way and make them permeate everything the business does. Whitewashing won't work. This is why it is better to actually find what matters to you, your employees and your customers and then build on that. I have a few favourite brands that have very strong values. Many of them do this really well. They may not be perfect – no one is – but they do this well.
Patagonia is a big favourite. It is an outdoor company, started by a founder with passion for rock climbing and the outdoors. Love of outdoors is still at its core and environmentalism is therefore a very logical thing for them.
Not many businesses have the courage to advertise asking people not to buy their product, like Patagonia did with their "Don't buy this jacket" ad, encouraging environmental awareness and encouraging less consumption.
Their mission statement is: "Build the best product, cause no unnecessary harm, use business to inspire and implement solutions to the environmental crisis." You can see my Patagonia board on Pinterest here.
Ben & Jerry's is another example of a brand with strong values and interesting view on life. Still very much influenced by the hippies that started it, Ben & Jerry's is committed to social responsibility and respect for the environment.
Part of their mission statement says: "Social Mission: To operate the Company in a way that actively recognises the central role that business plays in society by initiating innovative ways to improve the quality of life locally, nationally and internationally."
You can see my Ben & Jerry's board on Pinterest here.
Coca-Cola got a lot of positive publicity when they decided to put their advertising on ice for a while, instead donating the money to support the victims of the natural disasters in the Philippines in 2013. This is of course great, and they probably got as much media coverage and good will out of doing that as they would have gotten influence out of the advertising. However, one has to question the integrity, as this is not something they are taking all the way.
This sort of thing does not seem to be a clear mission of theirs and judging by many other actions, they are not much motivated by humanitarianism. For example, a good friend of mine pointed out that they were at the same time one of the main sponsors of the coming Winter Olympics in Moscow, but were not prepared to use their influence in any way against the gross human rights violations of the Russian government – oh, and that same friend of mine also saw two Coca-Cola ads back to back at the movies after they claimed to have stopped advertising.
Oh well… I have been lucky to work with businesses with very strong values. Two of them are Fafu and RóRó:
Fafu produces products that support social, emotional and general brain development of children through open play. Fafu's Imaginators, Hulda and Tom, are both very passionate about improving the world of children and this can be seen in everything they do. The emphasis on learning through play, connecting and respect for children is at the heart of everything Fafu does. Not peddling products, but improving the lives of the children and families they reach.
RóRó's first product, the Lulla doll, helps regulate the breathing and heartbeat of premature babies and other newborns, giving them better sleep and the closeness which can be hard to provide for them when they are in incubators.
Behind this product is great passion for giving these little babies the best possible start in life and helping parents giving our babies the very best, even when we cannot physically hold them for some reason.
Even I, the marketing nerd, of a breed considered by many to be pure evil, even I do not do what I do for the money (believe me, if it was money that motivated me, I would be working on getting a hot shot marketing job for a large company ;)   … what I do combines my passion and marketing nerdism with helping people do what they dream about doing.
People don't really start their own businesses unless they really really want to. Most small companies do not survive, and in majority of cases this is because they lack marketing skills. So that is what I am passionate about improving so that these companies can survive, allowing their owners to realise their dreams.
What matters to you? Why do you do what you do? Tell people. It matters!