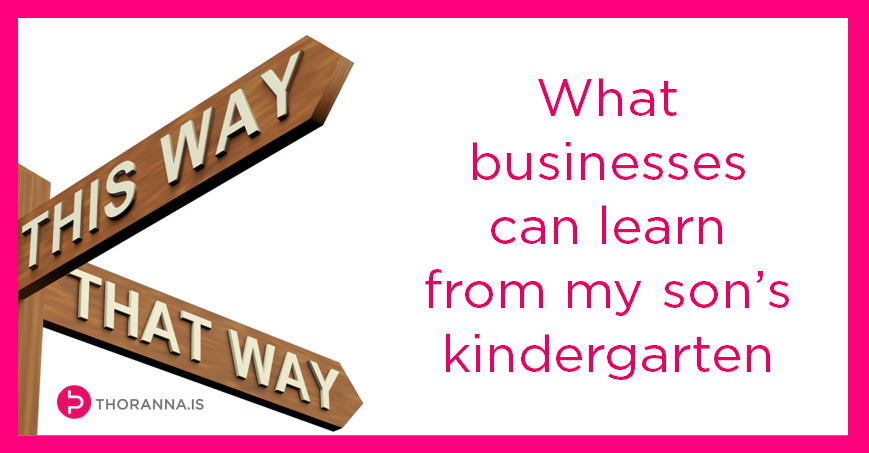 We have been very lucky in that both our children have attended a local kindergarten which we have all been very very happy with.This particular kindergarten has been widely discussed in Iceland, as it has a strong philosophy. Not that I am going to discuss that here in any detail, but a few of the things they do are things that businesses can learn a lot from when it comes to customer experience.
One of the criticism it has is that it is very organised. Everything is marked. The children sit in specific marked places on the floor in the main room during various activities and they have marked places in the hallway where they wait when going on field trips and such. Each and every item and piece of furniture is marked with the color of each group, and the places and spaces for things are marked with those colors in cupboards, shelves and drawers. The thing that most people notice is that the floor is marked with arrows which indicates where the children should walk – right hand traffic like in the streets :)
This has never been a problem for me, and is definitely not as strict as it sounds. When the thinking behind it was explained to me, I actually thought it was great. When a small child comes into a big, strange, new place like kindergarten, where there are a lot of other children and loads of new grownups, it must be quite scary. A strange, large new world. If they don't immediately get a feeling of belonging in that place, and knowing where they fit in, little people can easily get very insecure.
By making sure that they have their own space, they know that they have a place in this world, and that they won't get lost or left out. By marking all items and furniture, things don't get lost, the children learn that there is a place for everything and everything in its place and it teaches them to respect things – and tidy up :)  Overall, all these things help make a large and complicated word a little bit more simple and a little bit more secure for little individuals who are taking their first steps into that a big new world where one can easily feel scared and insecure.
So what has any of this got to do with business? Well, I'll tell you. [Read more…]