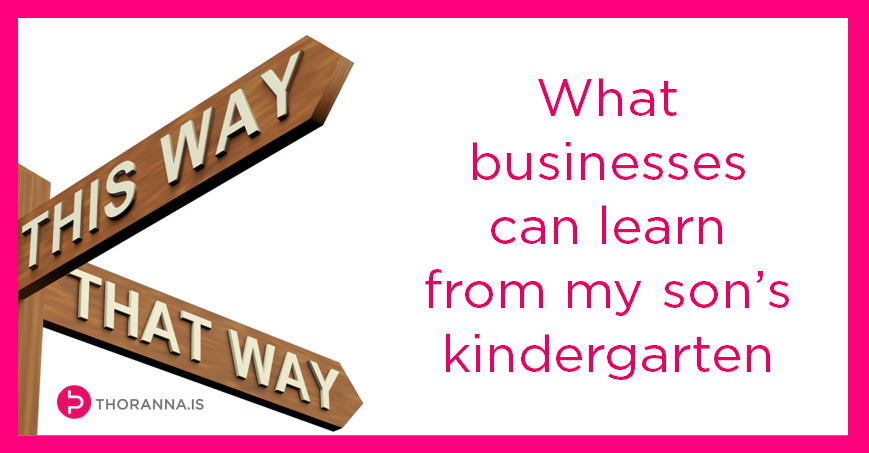 We have been very lucky in that both our children have attended a local kindergarten which we have all been very very happy with.This particular kindergarten has been widely discussed in Iceland, as it has a strong philosophy. Not that I am going to discuss that here in any detail, but a few of the things they do are things that businesses can learn a lot from when it comes to customer experience.
One of the criticism it has is that it is very organised. Everything is marked. The children sit in specific marked places on the floor in the main room during various activities and they have marked places in the hallway where they wait when going on field trips and such. Each and every item and piece of furniture is marked with the color of each group, and the places and spaces for things are marked with those colors in cupboards, shelves and drawers. The thing that most people notice is that the floor is marked with arrows which indicates where the children should walk – right hand traffic like in the streets :)
This has never been a problem for me, and is definitely not as strict as it sounds. When the thinking behind it was explained to me, I actually thought it was great. When a small child comes into a big, strange, new place like kindergarten, where there are a lot of other children and loads of new grownups, it must be quite scary. A strange, large new world. If they don't immediately get a feeling of belonging in that place, and knowing where they fit in, little people can easily get very insecure.
By making sure that they have their own space, they know that they have a place in this world, and that they won't get lost or left out. By marking all items and furniture, things don't get lost, the children learn that there is a place for everything and everything in its place and it teaches them to respect things – and tidy up :)  Overall, all these things help make a large and complicated word a little bit more simple and a little bit more secure for little individuals who are taking their first steps into that a big new world where one can easily feel scared and insecure.
So what has any of this got to do with business? Well, I'll tell you.
Once upon a time I got stuck in the Westman Islands, which are just south of Iceland. That's fine. It happens. If there is one thing you learn living in Iceland it is that you can't control the weather. It did however make me think of my son's kindergarten, because the people managing the ship taking me to and from the islands really could have learned a lot from them.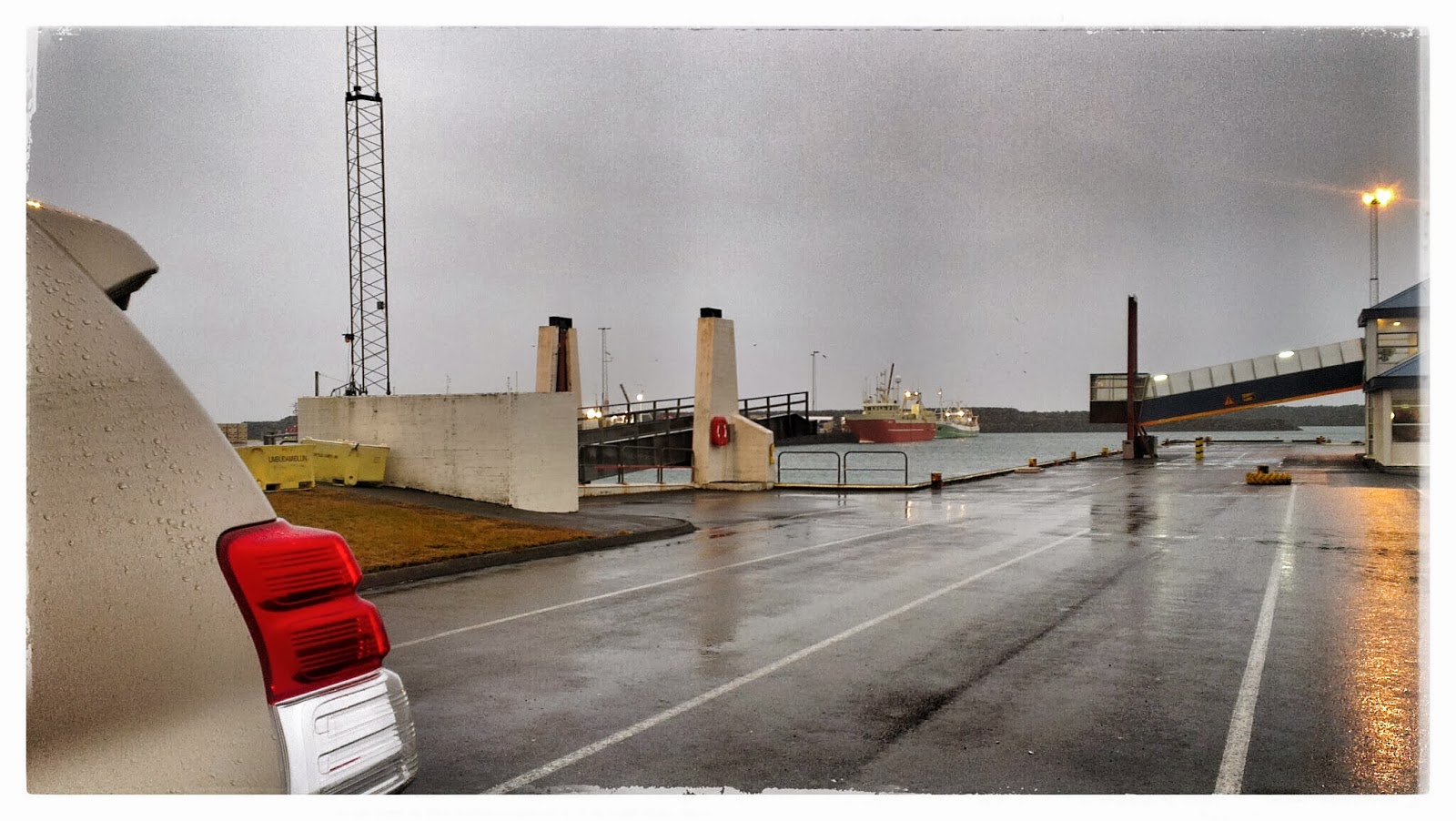 Waiting for the ship to arrive to take me to the islands
– pre adventure! :)
The whole time travelling out there and back, I could feel that I was not part of that particular world. There were obviously a lot of things that locals and those who frequently traveled that way knew about, which were a mystery to those not ordained, like myself, and I just had to try to figure out the best I could. These ranged from simple things like knowing how to get on board, whether by car or foot. The steps to take to embark were unmarked and one could think that they lead to administrative offices rather than to the ship – no arrows on the floor there!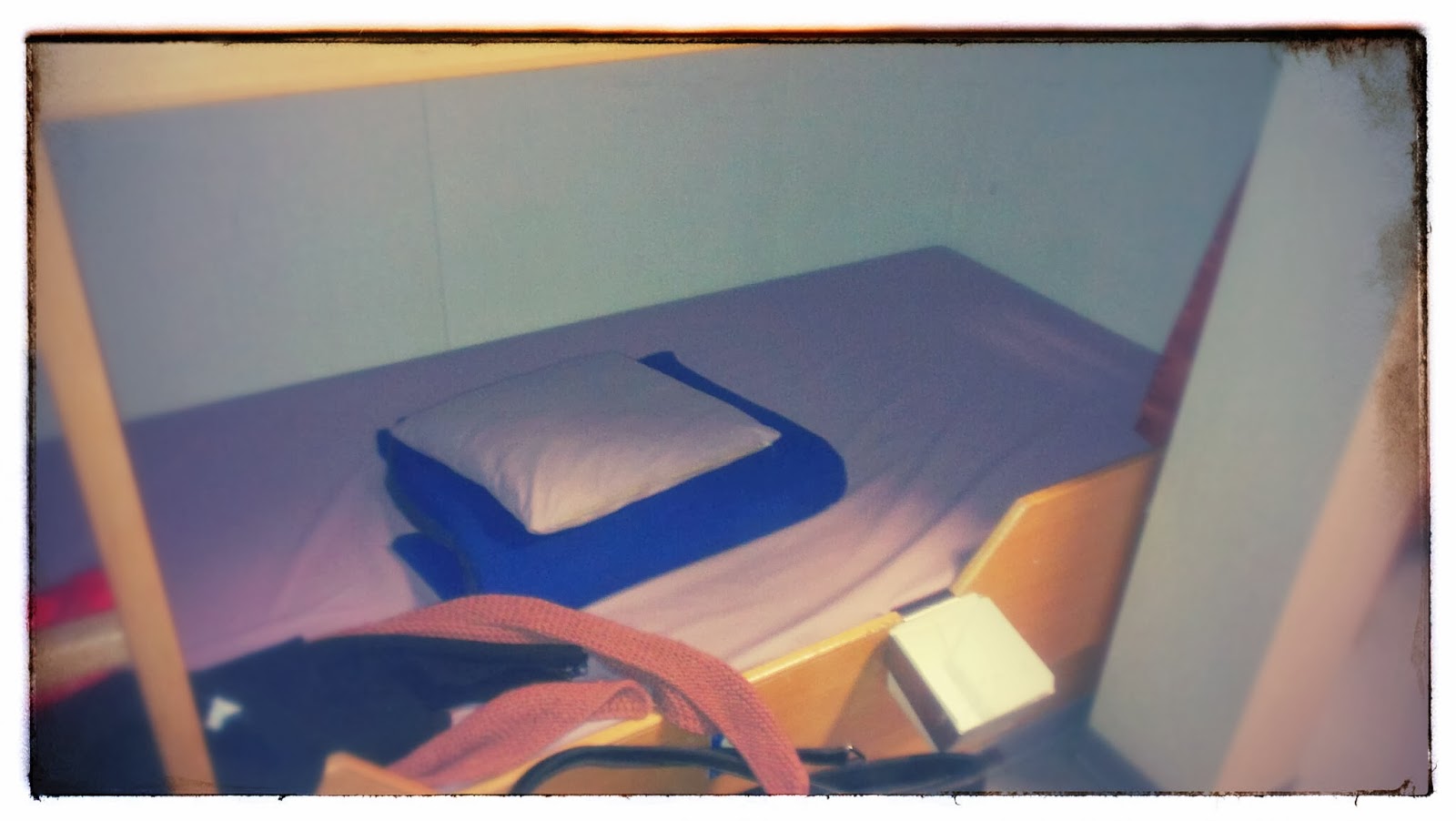 Really happy that a good woman recommended I booked a bunk
There was also that thing with the bunks. My contact in the islands had recommended I get a bunk for the trip, as the weather was rough and a good chance of sea sickness. I am extremely glad that she did, as that probably saved me completely. However, having booked a bunk, there were no instructions as to what to do next, where they were or which one I should use. I happened to go to the canteen to ask, and then found out that at the other end of the canteen I had to speak to someone to get allocated a bunk. Had I not thought to check with them I would still be roaming the ship trying to find my bunk! I can guarantee you that the kids at my son's kindergarten know exactly where everything is from the very beginning, and where they should be. There is no one running around looking for their bunk over there!
These are small and simple things. No big deal, but something that management should look into improving as the customer experience is important (maybe it's the fact that this is a monopoly service, heavily subsidised by the state, and therefore little or no incentive for improvement – who knows?).
Going back to the mainland however was a bigger ordeal. The boat was delayed for 24 hours due to storms and heavy seas. That's fine. I can totally understand that. Nothing any human could do. I was booked on the boat on Wednesday morning at 8am but it did not leave until Thursday morning at 8am. On the Wednesday however it looked like they were going to sail, so everyone got on board at 8am, with a message that we would only be delayed until 9am. At 9 it was delayed to 10 and at 10am we were all told to leave the boat again and we would try again at 1pm. Which then turned to 2pm and was then cancelled until the next morning. On the Wednesday afternoon I went to the service desk to ask if there was anything I needed to do, any arrangements I needed to make, due to the delay, and was told not to worry, I was booked and I didn't need to do anything.
The plane waiting at Reykjavik airport to take me
to the south-east of Iceland
On the Thursday morning when I turned up I knew that I would have to drive straight from the boat to Reykjavik airport to get on a plane to the South-East of Iceland for the final lecture in my tour. I was cutting it pretty close by now. When I get to the ship I am told that my car will not be going with me to the mainland! "Pardon? But I specifically asked yesterday whether I needed to do anything". It was like talking to a wall. When I spoke to the manager, he told me there was nothing they could do. Those that had booked the boat for 8am on Thursday morning took precedence. I should have registered for a waiting list the day before. Well…. it would be interesting if they tried that with flights. Just flying out those that were booked today, leaving those that could not fly out yesterday to wait even longer, rather than to clear up the backlog. A very peculiar arrangement, I must say.
When I told the manager I had specifically asked the day before, if I had to make any arrangements, he said that he had experienced staff that knew exactly how that worked. When I asked him whether he was saying that I lied about having spoken to the staff, he didn't quite know what to say. He then said that all this was explained on the back of my ticket. Hmmmm… that would be the ticked that got taken off me on the Wednesday morning when I should have originally left. Hard to read something you no longer have. The interesting thing was that I got both a text message and an email about the delays and then cancellation, but they did not think to mention this "little" piece of information in either of those messages.
This meant that I had to leave my car, go to the mainland, drag my husband away from work to pick me up and drive me to the airport (an approx. 4 hour tour). The car then arrived on the next boat – which didn't even go to the same place, but a harbor about twice as far from home for me. That meant an approximate 5-6 hour roundtrip, half of which in two cars, to get the car! We were lucky enough in the end though, and it worked out that someone was going that way and was prepared to drive the car from that harbor to Reykjavik for us, so we only had to pick it up there – but that was pure luck!
It is safe to say that my travel experience on this boat to the Westman Islands was anything but enjoyable – and I am not talking about rough seas or delays – there is nothing that can be done about that. What I am talking about is the lack of customer information and service. In kindergarten the children – and the parents – know exactly how things are done and what is expected of you, whether you have just arrived, or been there a long time.
Had the management of my son's kindergarten managed the customer experience for the boat to Westman Islands, I have no doubt that I would have known exactly where to go and how to get on board. I would have had clear instructions, and everything well marked. This would have meant I would have known what to do about the bunks and when the trip was cancelled I would have known exactly what would happen and how things worked (and knowing that kindergarten, they would have had a normal and fair prioritization for things like getting people's cars across). I would also have received an email after the trip (they did have my email address) with a survey, asking me about the trip and how their services could be improved.
And before anyone says "well, it does say somewhere … you should have known or seen this or that" – it is very simple. You should never assume your customer sees something or knows something. You need to make sure that they know and see what they need, and that they can't miss it. Get outside people to try your processes, your services, everything about the experience and then listen to them and make the necessary changes. When it comes to the customer experience, the customer is right! It is their experience and you can't tell them what it's supposed to be, you have to give it to them!
Have you done that for your business?