(who incidentally beat England! ;) )
Not to repeat what has been written and said in media all over, Iceland's win against England was huge. A true David kicked Goliath's ass moment! But make no mistake, it was not down to luck. There are a number of factors that lead to Iceland's win against the most expensive team in the tournament, a team with some of the highest profile and most expensive players in the world.
What I find interesting is how many of them directly relate to business, and marketing to be precise, and how we can learn from the Icelandic team's achievement and apply as small or medium sized businesses or startups to kick the assess of the Goliaths of big business! Who's with me? ;)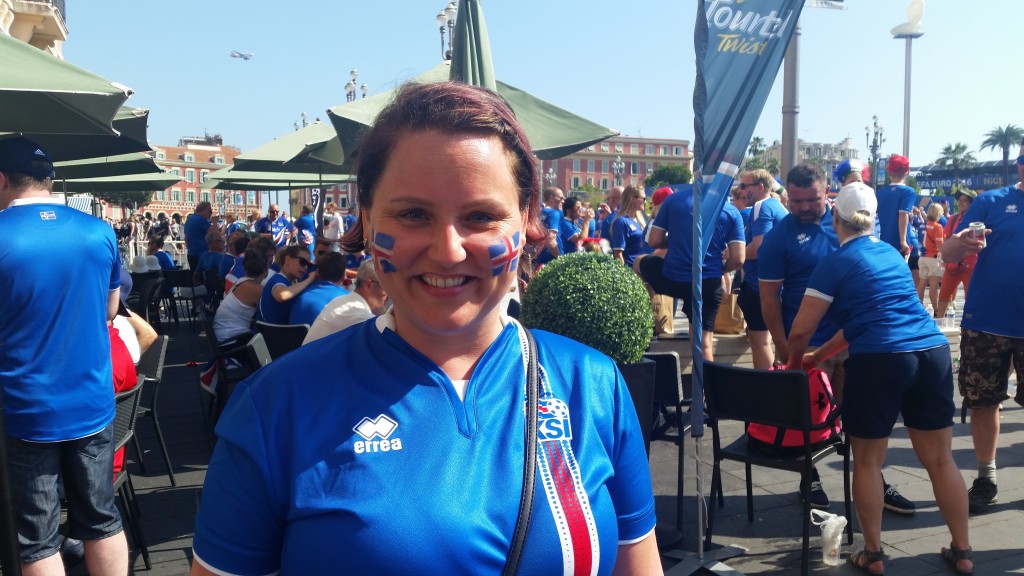 Here are 9 things which you can learn from the Icelandic national football team and their results in the Euro 2016:
Organization and Planning
Read a few articles that cover the Icelandic team and you will come across the word "organised" a lot. The team keeps their 4-4-2 formation no matter what, which makes their defence stronger than the Tower of London. Having a game plan that everyone adheres to and trusts in is crucial, in football and in business.
All to often, when things don't work right away, people abandon the plan and try something else. Sure, sometimes you should stop flogging a dead horse, but when the horse is only taking a little break for water, don't write it off just yet. Give it a chance to drink and get back in the game. It will run for you – it will work. So will your marketing plan if you've built it well from the bottom up and stick to your guns.
Incidentally this 4-4-2 formation in football is rarely used anymore and generally considered old-style. But it has been proven successful not only for the Iceland team but also the English team Leicester which won the Premier League against all odds this spring. To me this says that not all new things are necessarily good, and we all know that there are plenty of shiny new things to be distracted by in marketing. The lesson: Stick to the good old basics, get them right and then maybe you can start adding new bells and whistles (if needed).
No One Player Can Go It Alone – It's the Team that Does It
The England team is made up of individual stars that are pulled together because of their individual success. Dr. Belbin described the Apollo syndrome, where teams of highly capable individuals perform badly when put together and this is an all too common pitfall. Football experts will confirm that this is not a one off, and many a national team and big time league teams have fallen prey to this syndrome. Sometimes it may even be better for the team to have someone less individually capable in a role, if it means they work better with the rest of the team, than to have a star in every role that cannot function with the rest.
It's not enough to buy a star for gzillions to win at football and the same applies to marketing. You cannot just rely on one thing (or one person) and expect it to work on its own. You always need to look at the whole system and how it works together. A Facebook ad alone does not a marketing program make!
Just like a football team needs defenders, midfielders, left and right wingers, strikers, a kick ass goalie and more (I, like the rest of the Icelandic nation, of course am in love with our Hannes Þór Halldórsson :) ) marketing needs different talents, roles, tools and activities to make a marketing system that works together.
Pulling together as a team, all for one and one for all, and being ready to do whatever it takes to get where you want to go is key, both in football and in business.
Ambition and Belief in Yourself
Thinking big, having big ambitions, wanting to be the best, and believing that you can achieve anything are at the heart of the Icelandic national football team. This cannot be underestimated. They have trained hard on the pitch, know all the moves, and seem to be able to run endlessly, but none of this would matter if their heads were not in the right place.
It's easy to get intimidated by bigger nations, with world-famous players, in huge arenas the likes of which will probably never be seen in Iceland. Keeping your cool and believing in yourself is what separates the men from the boys and the women from the girls at those times. (Incidentally, Iceland also has a kick ass women's team ranked 16th in the world – check them out as well!)
Personally, I believe instilling this winning mentality in our players is the biggest achievement of coaches Lars Lagerback and Heimir Hallgrímsson. One would think they were both psychologists, rather than a football coach and a dentist, the way that they have mentally prepared the team for the mammoth task that lay ahead of them.
As a small or medium business, or startup, you need to have this mentality. Don't just settle for being yet another me-too business that muddles along and avoids going out of business. Strive to be the best at what you do. Be different and be brave. Don't just settle for taking part. Aim to win without being unrealistic. Set stretching goals without them being unattainable, take it one step at a time, and you never know where you will end up. Otherwise, just close shop and get a day-job – please.
Strategy over Tactics
I've said this before. The Iceland team are good at football – many of them even great. They can run, they can take on other players in a way that you would think they were dancing, the agility is so impressive. But that is what is called in management speak a threshold resource. They have to be able to do that just to have any chance of being in the game.
To get where the Iceland team is now takes a lot more than just football technique. It takes strategy.  It means you know how you are going to use those technical ingredients together, cohesively, to achieve your goals (pun intended :) )
If you are the owner, manager or marketing manager, you should not be worrying about knowing the detailed ins and outs of creating Facebook ads, doing SEO, the technical aspects of building a funnel or where to click in Google Analytics. A basic understanding of the tactics is of course necessary – I'm sure Lars and Heimir know all the moves, but I doubt they could perform them ;) .
You need to have the big picture. The strategy. And then you bring on board the players that know these tactics. Remember though to always pick players who not only know the tactics, but also understand the importance of strategy and understand that what they do is not isolated, but part of a bigger game plan.
Play the Long Game – Hard Work Pays Off
This fantastic Icelandic team was not built in a day. It has taken years and years of training the players individually and together to get to where they are today. These guys have been playing since they were kids, practising every day. Many of them have been playing together in the national team since their teenage years and the value of this experience and shared history cannot be underestimated.
These players did not get good overnight. The team did not get this good overnight. These results were not achieved overnight. It takes time and it takes stamina.
An article written by the former coach of striker Alfred Finnbogason, he describes how Alfred didn't always make the team when he was younger, and never made the national youth team. But he never quit and he never gave up. At 19, Alfred and his team mates were being taught a very difficult ball technique. As the others dropped out one-by-one, saying they just couldn't get it, Alfred kept going. As others gave up, he would not quit. This is the mentality of winners. Things worth having need to be worked for. This is why he is now a strong player in a team playing in the last 8 in the Euros.
All too often, we expect marketing to yield results straight away, preferably yesterday. It doesn't work that way. There is no magic pill. You can't expect to start marketing today and for the money to come rolling in tomorrow. Good things take time and work – and easy come, easy go!
If football was easy, everyone would be good at it.
If marketing was easy, everyone would be seeing great results.
I'm not saying marketing is astrophysics or anything. It's not that it's that complicated. But it does require hard work and patience. Rome was not built in a day, and neither will your business empire be.
Build a Following
No less impressive and well known than the Icelandic team, are its followers. Building a strong fan base provides the team with much needed support and motivation through a tough competition.
The team and its coaches realise the importance of their supporters, appreciate and respect them. This has been seen on and off the pitch and can be seen in a wealth of media coverage. I myself witnessed it first hand at the game in Nice where they interacted with the followers in the stands before and after the game and even during half time and can see why the Icelandic nation, and indeed many others, have fallen in love with the team.
Look at the team here paying homage to their fans after their win against England (approx. 1:09 into the video – video posted by goalie Hannes Þór Halldórsson):
As a business you need to do the same with your followers. Appreciate them and let them know they are appreciated. Without them you would not be in business.
The Icelandic supporters love their team. And when I say love, I mean LOVE. Get your customers to love you. And don't say it can't be done. BS! If we use clichés – why do you think Apple are where they are? There are hundreds, if not thousands, of examples of businesses and brands that people truly love and the fact is that if the business doesn't completely f**k up in other areas, this love is shown on the bottom line.
Without support, it would be hard for the Iceland team to keep up steam. Without support, you're out of business. It's as simple as that.
No Hubris
The team's appreciation for their supporters is also a mark of their humility. Never have you seen any of the Icelandic players get too big for their boots. They realise that not only are they part of a 23-strong team, but they are also part of a 330-thousand-strong team.
No one player is bigger than the team. You will not hear anyone say "that's not in my job description". The 4-4-2 formation not only calls for everyone to work together, but it can also only work if everyone is ready to pitch in. There is no such thing as a striker that hangs back when there is a goal to be defended – it's one for all and all for one.
In stark contrast, consider Christiano Ronaldo. Need I say more?
The Iceland Team – The Brand!
Iceland itself has a strong and unique brand, which helps the team brand, but the Icelandic football team is a strong brand in and of itself. Strong and clear brand associations help people remember the team and build a rich and interesting brand that endears and fascinates people everywhere.
On our way back from Nice, my friends and I wore the Iceland team shirts. A lot of people came to us congratulating us on the win and wishing us well for the game against France. The big thing that people remembered? That slow-clap "HU!" chant.
The "HUH!" has become a trademark chant for the Icelandic team, impressing (and in some cases terrifying) people everywhere. It is becoming as well known and memorable as New Zealand's All Black Haka. (Conveniently, it is also less complicated, so it's easier for everyone to take part!)
Other interesting brand associations that help us be remembered and admired are our viking roots, and of course individual players in the team, such as Birkir Bjarnason (who is on his way to become a coveted fashion model!) and our truly awesome viking looking captain, Aron Gunnarsson.
Of course there are also the classic brand associations of the flag, the red, white and blue, and the horned viking helmets (which incidentally never actually had horns lol) and associations with winter, ice and cold (Game of Thrones' "Winter is coming" has been quoted a number of times in relation to the Iceland team).
All this helps to build a rich and engaging image that is remembered and loved.
What are your brand associations? What comes to mind when people think of your business? If you don't build a brand, you are not building anything that lasts. You are not truly getting into people's heads to be remembered.
Does your brand ensure that people remember and love you?
Icelanders have been watching English football forever and know how they play – whether in the leagues or the national team. (Incidentally, Manchester United and Liverpool are the most popular teams in Iceland with thousands of passionate fans). This paid off last Sunday, as the Icelandic team understood how the English played, making it much better prepared to meet them than if not.
Have the English ever thought about Iceland when it comes to football? Probably never until the Euros started, and even then, probably not until they knew they'd be playing them in the last 16. No one expected Iceland to get up from the group stages, so I doubt that the England team spent much time studying the team and how they played until the last minute.
And look how that ended!
I rarely meet business people who fully realise the importance of analysing and monitoring the competition. But I often meet business people who have paid the price for not doing so, even if only in a small way.
And that's all I'm going to say about it.
Sir Alex Ferguson wrote a book about management based on his career, which is widely read and admired by business managers everywhere. He has always been known to focus on the team rather than individuals, and managed to get results with teams that others then took on and didn't manage to get much out of at all. Lars Lagerback and Heimir Hallgrímsson could just as easily write a book for business managers and marketers on the lessons they can learn from the Icelandic national football team. I for one would definitely read it (hey, I'd be happy to write it with them!)
No matter what happens next Sunday against France, the Icelandic national football team can stand tall and proud. They have done everything right and shown formidable character. A game against an extremely strong French team, on their home turf, in their capital city, in one of the biggest stadiums in the world, is tough, by any standard. The one thing I do know is that our team will have their heads screwed on the right way and will come into the game with the focus, humility, determination and hard working mentality that has got them this far. And that they will have a 330-thousand-strong team behind them every step of the way.
I myself am just proud to share my nationality with them.
I'm off to wash my Iceland shirt for the next game, and make sure I have enough face paint to paint the Icelandic flag on the cheeks of family and friends!
Go Iceland!!!!!