I am tidying up. What about you? It is something one must do regularly. I have to admit I don't do it enough, but occasionally I get a kick in the butt and I do try to go over my strategy once a year.
It really is something you should not need a kick in the butt to do though. Every time I do this, it reminds me how important it is to set things up in a clear way, planning things out. It's a bit like moving house. It's cleansing. Throw out stuff you don't need, realise what you do need. Out with the trash and in with a trip to Ikea and all the consequent organisation! :)
One of the very useful things to come out of this process for me was a marketing clean up. I try to do that regularly. OK, as I have said sometimes before, I am on wayyyy too many social media, more than I would recommend for most, but that's just because I am in marketing and want to know what they are all about. Apart from that, things are pretty clear. I am constantly learning more and more about what works and what doesn't.
It is really useful to set things up visually. I have loads of notes and stuff all over my walls to help me get a clear overview of things. This time I decided to put my marketing process up on the wall, both for my Icelandic operation and for my plans to untangle marketing out there in the big world. You can see the results here in the picture below (a bit fuzzy, damn smartphone ;)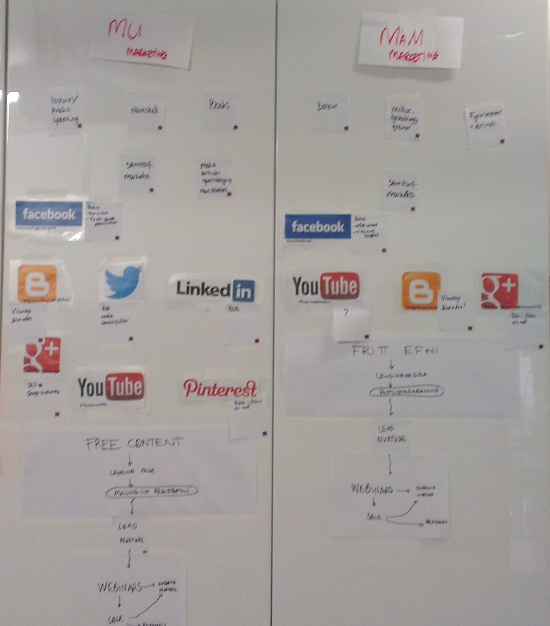 After doing this, I feel great! My strategy is clear, and – which is no less important – visible. I know what I am going to do, when I am going to do it, why and what I want out of it. Now I am just thrilled to take on the challenge!
Do you have a plan?
If you need a better plan for your marketing, keep following me and I'll help you out ;)