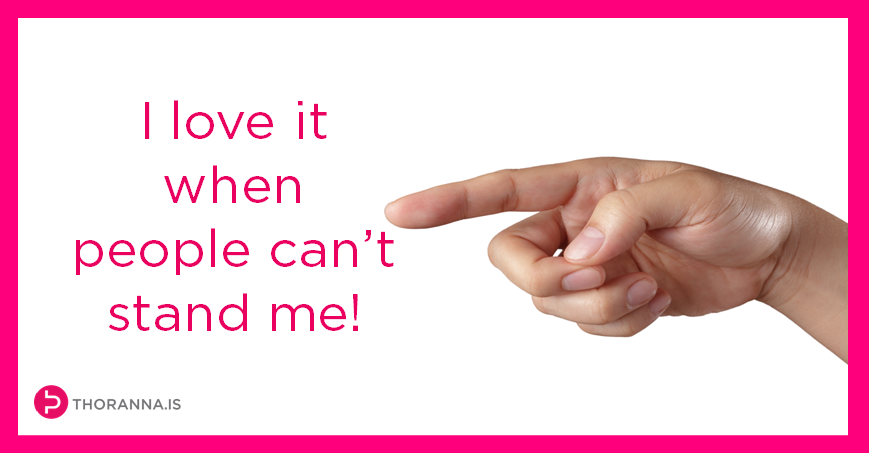 I met a friend and former colleague the other day. She asked me what reaction I had got to my last blog post and email I sent out to my followers. The reason she asked was that someone had come to her and expressed her dislike. That person did not know how to react to my email, whose subject was: "No one wants to be an ass, do they, …?" It was clear that this person was offended by this.
My friend did ask them whether they had actually read the email, and it turns out that they did not, so there was no way they were going to get the joke – oh well…
My reaction: Sheer joy! I thought it was great! OK – please don't get me wrong. It was not my intention to make that person feel bad in any way and I am sorry for that. However, I am very very happy when someone really hates the stuff that I do. Why? Because if someone hates it, it is more likely than not that someone completely loves it! And that is what I want.
Eenie Meenie Miney Moe
I have said it before and I'll say it again. Marketing is all about building relationships. The stronger a relationship you* can forge the more likely people are to buy from you, buy from you again and to create more business by telling others about you. You want some people to hate you and others to love you. Let's be realistic – no everyone is going to love you – it's just not possible! Those that love you will not want to do business with anyone else but you, and those that don't, well, if they hate you enough, you will definitely be talked about ;)
If everyone thinks you're just ok, you* won't matter enough to people for them to choose you over anyone else. If you are ok, and that one is ok and the other one is ok as well, people may as well use eenie-meenie-miney-moe to choose who they do business with. Or even worse, make their choice solely based on price – and that is when business will start to get really tought!
* please note that when I say "you" that refers to your business, product or service – but can also refer to you yourself if you are what you are marketing.
Be Pink!