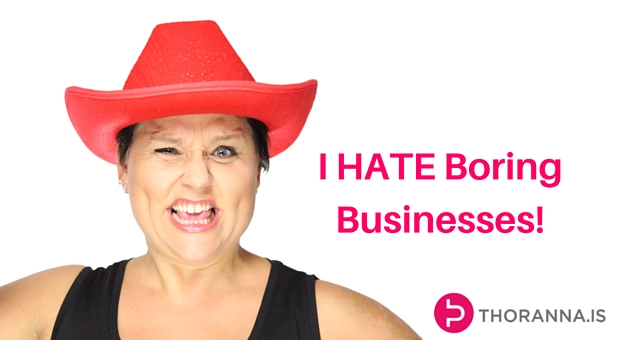 There! I've said it! I truly, deeply, madly hate boring businesses. In my mind there is absolutely no excuse for boring businesses. Don't get me wrong, not every business has to be outrageously funny and crazy (although, I definitely don't mind those) – but I believe all businesses should be interesting, because boring is not antonym of fun or funny when it comes to business – it is the antonym of interesting. Why on earth should we do business with those who are not interesting? If you don't have something of interest to contribute in this world, why should I give a damn? If you don't make the world better in some way or another, why exist? Businesses that are interesting are worth caring about. Those that can't be bothered – well, why should we bother with them?
Why?
In a fantastic TEDx talk, Simon Sinek talks about how the secret behind powerful leadership is being clear on why we do what we do. Why do businesses do what they do? This is generally classed as a leadership talk, but it could just as well be about branding and marketing. If people understand why a business does what it does and if that resonates with them, they will want to do business with that company. If we, as a business, have a good reason for doing what we do, a reason that matters, we will matter. Then we become interesting. If our raison d'etre is simply making money, why should that matter to anyone else? They won't be the ones getting that money. What's in it for them? If you do what you do to make the world better in some way – however small it is – you are bound to find people that want to join you because their why aligns with your why. So why do you do what you do?
We Are All Selfish
See, we people are inherently selfish beings. I may sound like I am criticizing the human race here, but I'm not really. It's only natural. It's a survival mechanism. If we don't take care of no. 1, we can't take care of anyone or anything else. It's the classic "put the oxygen mask on yourself before assisting others" thing. As soon as we forget this when it comes to our business and our marketing, we are in BIG trouble! As marketers, we need to focus on the needs of others in order to fulfil our own needs. It's like that Friend's episode where Phoebe tries to perform a selfless act. It can't really be done. Ultimately, we do things because there is something in it for us. But as marketers, the more we do to fulfil others needs, the more we can fulfil ours. If your why aligns with your target audience's why, then we are helping them create the world that they want to see. And that's the need we fulfil for them.
It's All About Heart
However much we try to claim that we are in control, that we are rational beings, the simple fact is that our emotions control us. And the further we move up the Maslow hierarchy of needs, the more emotion is bound to matter in our decision making. So in the western developed world, where one could argue that most of us have it way too good, the emotions we evoke as a business – the emotions that are part of a our brand – must be positive and lead to people wanting to do business with us. Boring can hardly be called a positive emotion. Boring does not make the world a better place. Boring is not going to resonate with anyone's why.
Don't Fake It!
This may all make sense to you, but you may still be asking yourself: "But how can I be interesting?" You may not consider yourself or your business interesting, let alone fun or funny. But I can promise you, it is there, in there somewhere. It's just a question of luring it out. My good friend Runa Magnus calls it finding your X-Factor, and btw, she's brilliant at it ;)   It's about finding the place where what you love meets your story, your values and your purpose and once you know how those things come together, you will be able to find your X-Factor – the thing that makes you unique, and within it, your why. When you know this, everything else tends to fall into place as your X-Factor becomes the compass for how you appear to the world, the core of your brand. You will become interesting in a way that is true to you as a person and true to you as a business. And that is where the magic happens …
Just For Fun!
Here are some of my favourite interesting businesses – check them out!
Poo-Pourri – they have taken a product category that has been around for years with big budget giants in the game and made it crazy interesting! Love these guys!
Ben & Jerry's – it's not just icecream – it's joy for the belly and soul!
HubSpot – their Culture Code alone makes them interesting and lovable with a clear why!
Vodoo Doughnuts – doughnuts in a coffin! You can't say that isn't interesting!!!
Patagonia – proof that interesting does not need to be funny but have a strong reason for being – a big why…
Eat24 – sorry, these guys are just too funny – they could never be accused of being boring! Hell, I live in Iceland and can't even do business with them, and I still get their emails every week!