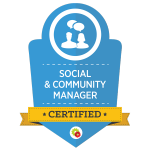 With a great portion of your target audience hanging out on social media, it is an customer engagement channel you cannot ignore. Yet far too many businesses are wasting time and money and social media with little or nothing to show for it. Don't let that be you.
Get more of the right business by engaging with your prospects and customers and getting qualified traffic to your offers.
Give your customers exactly what they want by listening to your market.
Get more business through increased awareness, engagement and traffic.
Open doors to lucrative markets by networking effectively with media and influencers.
Sell from social – the way that you should be selling from social (it's not the way most people think it is).
I can work with you to…
Get results by ensuring that your social media is integrated into all your marketing efforts to fuel and drive your marketing system.
Save you time and money by making sure that that your social media is effective and doesn't drain your resources.
Make sure your social media efforts are working by measuring your results.
The main platforms I work with are:
Facebook
Instagram
LinkedIn
Pinterest
YouTube
Twitter
Find out more about working with Thoranna