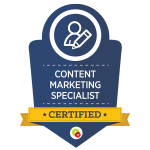 Build your brand's authority, your audience and create your own advertising platform with content marketing.
But not all content marketing is created equal and to nurture your relationship with prospects and customers you must deliver value in advance.
Great content means you will build an audience.
Building an audience gives you the platform to advertise.
Crap content builds no audience…
…and hence no opportunities to advertise.
Here's what we can do together when it comes to your content marketing…
Content Marketing Review
Make sure your content marketing is delivering the best results possible. I will review your content marketing and deliver af plan of improvements. I can also work with you on implementation.
Content Marketing Strategy Development
Build the right audience through the right content at each stage of the customer journey and ensure efficient distribution.
Content Marketing Planning
Don't spend more time or money on your content marketing than necessary. With a solid plan and the right tools you can get results with without wasted effort.
Find out more about working with Thoranna
Blogging and Vlogging
Set clear goals for your blog and make it work hard for you through effective blog planning, methods that allow you to create blogs that generate traffic, capture and convert leads.
Whether written or on video we can make sure you are getting the most out of your blog.
Lead Magnet Development and Creation
Attract the perfect audience with the perfect lead magnet. Ensure that the content and delivery method are spot on. I can work with you to develop the perfect lead magnet and, depending on format, its creation.
Webinars
Webinars are an extremely effective marketing strategy and one which I have used for years with fantastic results. I will work with you on your webinar to ensure it sells your products and services like hotcakes.
Other Content
The list of things that you can do when it comes to content marketing is extensive. Not only can I help you choose what to do, and develop the content, but in many cases I can also help you create it. This can be other content such as infographics, ebooks, podcast, quizzes, spec sheets and moe – based on what best suits your business and market.
Find out more about working with Thoranna